In the spirit of my last post about investing for the short and long term, I decided to keep track of my current goals publicly on my blog. These only include goals outside of retirement. I listed my short and long term goals in the table and show how close I am to achieving them in the bar chart. I'll keep updating them throughout the year. I included the end target date in the name.
The yearly investment goal includes all investements for the year
The emergency fund is currently fully funded in a money market
The new house fund is in a taxable Vanguard account
The car fund is also being funded in the money market
The college fund will be in a Vanguard 529 plan
The new bathroom fund will be in held in a money market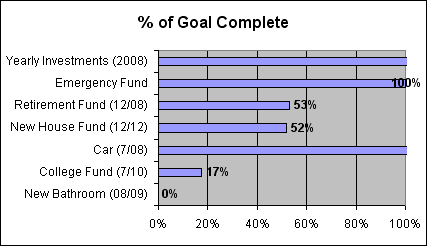 I am currently contributing half of my investment money into a money market, which is building up my car fund, and half into index funds, which is building up my new house fund. My plan is to continue that way until the car fund is done, hopefully in 3 months or less. Then I will start funding the bathroom fund with the money market half. However, in July I will start investing in the College Fund with 100% of my available money, using a 529 Plan, until I reach my goal of $70,000 in 2 years or less. At that point, I will continue with the half long term investing, half short term investing allocation.